Tuesday, 30 January 2018
16 Medical Selection Power: Choose a Hospital Cautiously
Ability to determine between doctors and hospitals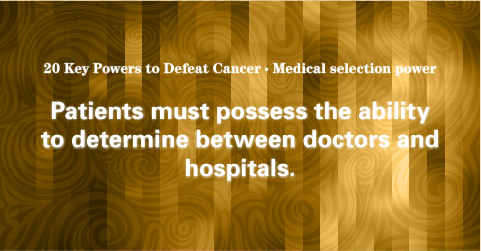 "Can You Understand the Loneliness of Patients?" This is The Key to Making the Choice of Doctor and Hospital
"Medical selection power" is not asking patients to receive the physician's diagnosis; it is about which physicians are good for patients. That means patients must possess the "ability to determine between doctors and hospitals".
My attending doctor, Dr. Obitsu Ryoichi is the authority on holistic medicine. He is certain when he says that "good physicians are physicians who are able to understand the loneliness of patients". I believe that these are words of wisdom. "Physicians who are able to understand the loneliness of patients" does not mean the hard-working physicians who only use medical equipment or chemical medicines, but the physicians who do their best to build the trust between patients and medical personnel, who make reliant communication the first consideration. I also use such a "standard" to determine a physician's personality and the dependability of a hospital.
Although I have said so, in fact, many hospitals and physicians still treat patients in accordance to medical manuals and textbooks. It is very different to find such good physicians and hospitals as I have just talked about. However, do not give up hope. It is certain that you will be able to find them through hard work.
For example, a surgeon whom I admire, Tsuchiya Shigehiro (Chinese 土屋繁裕) was a doctor full of kindness and love. Unfortunately, he only lived until he was forty-nine years old and died of overwork. Maybe some readers still remember that he was the doctor who introduced the topic "Doctor Harassment"; and these two words caused a sensation. It was about warning physicians not to "oppress/terrorize patients". Dr. Tsuchiya's criteria for physicians was: first, a doctor who "requires a patient to sit on a round chair while the doctor himself/herself sits back on a chair with armrests". If a hospital has such doctors, you had better not go in.
Dr. Tsuchiya proposed a "checklist for choosing hospitals and doctors". It is provided here, for your reference:
"A Checklist for Choosing Hospitals ── 10 Important Points"
(1) Avoid places where the patients themselves do not want to stay, but the hospital suggests that they stay on for examinations.
(2) Do not go to a big or well-known hospital right away.
(3) Expand the area you are selecting hospitals from.
(4) Get second opinions from at least three doctors.
(5) When you tell your doctors you would like to get a second opinion, they show hatred in their eyes. From such doctors or hospitals, you should respectfully keep a far distance.
(6) Respectfully, keep a far distance from hospitals which have poor customer service at their information desks and over the telephone.
(7) If medical personnel (doctors, nurses, so on) provide poor service or have a poor attitude during medical consultations or check-ups, you should respectfully keep a far distance.
(8) Do your best to gather information about hospitals, and confirm the evaluations of the particular hospitals you choose.
(9) Select a hospital that provides personal information through multiple channels, such as the Internet.
(10) Work together with family members and make a concerted effort. No matter how much time you spend or how long it takes to go, actually go to the hospitals and check them; get a feel for a number of hospitals.
"A Checklist to Confirm Eerie Doctors":
(1) Doctors who do not say hi or hello
(2) They never look directly in a patient's eyes during a conversation
(3) Arrogant physicians
(4) Irritable physicians
(5) Physicians who rush to finish treatments
(6) Physicians who show their conceited attitude; it seems that they already know everything about your disease
(7) Physicians who use medical terminology unconsciously
(8) Physicians who are very proud of open surgery
(9) Physicians who need others to express gratitude for them
(10) Physicians who require patients to take long-term medications without any concern
(11) Physicians who require unnecessary and meaningless regular examinations
(12) Physicians who force patients to undergo treatments
(13) Physicians who are reluctant to give you your medical records
(14) Physicians who have a tendency to use patients as guinea-pigs
Deep down, everyone should share common feelings on the pervious checkpoints! When we face an emergency, we always ask for good recommendations from friends. In fact, the process and work of choosing a doctor, hospital and all other aspects of care are very tense. When it comes to my "medical selection power", in my decade of experience fighting diseases, I only have two criteria for choosing doctors and hospitals:
1. For the specific hospital, whether or not they have doctors who know about botanical herbs and herbal dietary therapy.
2. For the food and meals that are arranged by the specific hospitals, whether or not they have the concept of herbal diet.
_____________________________________________
Sekine Susumu
Chairman of SlowHealth Research Association
Chief Editor of Life Guide Book
Professor Emeritus of Changchun University of Chinese Medicine, China
♥ Follow our facebook page for more information: https://www.facebook.com/tianxian/
Other Information Sharing :