Long-term Amenorrhea/Various Chronic Inflammatory Symptoms
Annoying Problem of Long-term Amenorrhea
Annoying problem of long-term Amenorrhea solved for the first time! What a pleasant surprise!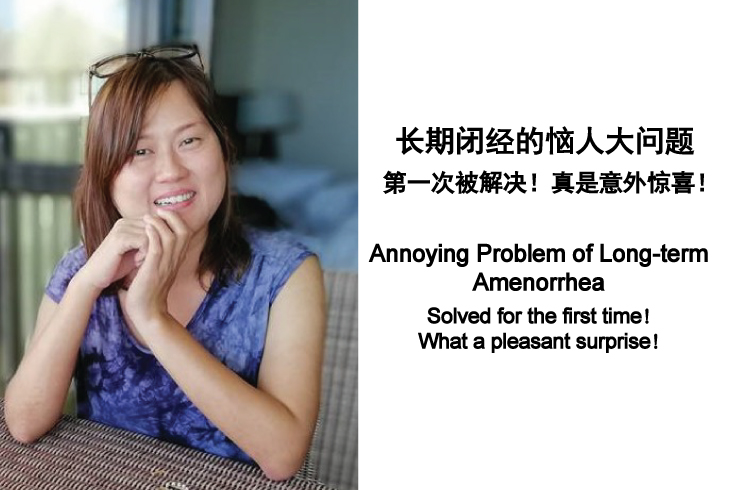 For a long time, I have been facing severe amenorrhea since adolescence, and my body would often manifest various chronic inflammatory symptoms.
For the past 20 years, I would not have a period for several months or even half a year. I consulted many Chinese physicians, acupuncturists, and took Chinese medicine prescribed by Chinese physicians, but to no avail. Even the occasional menstrual flow was so little that there was no need to change sanitary napkins at all, and it would never exceed 4 days. In June 2020, I consulted another Chinese physician and took the traditional Chinese medicine prescribed by her intermittently. My condition did not improve, and the amount of menstrual flow was extremely little. All the Chinese physician could say was "Well, at least it came."
At the beginning of November 2021, I started taking E18 once a day, about 60ml each time. I took it continuously for about 7 days. Then on November 15th, which happened to be my menstrual cycle, the period came smoothly, and the menstrual blood volume was substantial (normal volume) for 5 consecutive days. I had not seen such menstrual volume and number of days before! For the first time, I felt some premenstrual syndrome, my waist and abdomen were slightly sore. For the very first time, I felt so happy to be able to menstruate normally, and it felt so smooth.
Recently, a friend whom I have not seen for a long time also said that my spirit was much better. The makeup artist said that my complexion was better than before and it was easier to apply makeup. Many years ago, a friend said that I looked like a Tibetan because of my dark complexion. A new friend I met recently said I looked like a Chinese mainlander, with fairer and more lustrous skin. I am very happy to see so many unexpected improvements in my health. It also makes me resolute to continue taking the traditional Chinese medicinal compound E18 to recuperate my body and improve various long-term health problems to make myself healthier. (E18 Short Story/2021.11.26)
♥ Follow our facebook page for more information: https://www.facebook.com/tianxian/